L'empresa fabricant de joguines Mattel ha retirat de la venda el llibre-joguina Barbie, puc ser enginyera informàtica, a causa de la quantitat de crítiques que ha rebut a Amazon. I ha fet pública una nota on es disculpa per la imatge de la dona que ha pogut donar aquesta nina.
El llibre, que es venia acompanyat de la nina amb un ordinador portàtil, explicava la història de Barbie, una enginyera informàtica que, davant d'alguns problemes tècnics, ha de demanar l'ajut dels seus companys homes, qui li resolen la situació.
Sobre aquesta qüestió s'ha obert una polèmica. S'està (de nou) parlant de dones que no saben enfrontar-se a la tecnologia? O s'està intentant fomentar el treball en equip?
Us presentem dos articles, cadascun defensant un d'aquests punts de vista. I una acció que es va fer hackejant els textos del llibre.
Pamela Ribon, Gizmodo, 18/11/14
(…) this is a real book. A book you could buy right now if you wanted to. A book that right now, somewhere, is teaching possibly hundreds of young girls and boys the following:
At breakfast one morning, Barbie is already hard at work on her laptop.

"What are you doing, Barbie?" asks Skipper.

"I'm designing a game that shows kids how computers work," explains Barbie. "You can make a robot puppy do cute tricks by matching up colored blocks!"
Barbie! That's awesome. I love how your game is both educational and fun. Bonus points for keeping it cute, because you are so stylish. Please be careful not to drop your breakfast fro-yo on your laptop. I've done it, and it's not so funzies. Anyway, Internet, get ready to find your thing to be super pissed off about today.
What the fucking shit, Barbie? This is where you assume Skipper will be like, "Oh, why do you need boys? We can do it ourselves! Let's learn and work hard and do things all on our own because a sense of accomplishment and knowledge are powerful weapons for adulthood."
But no. Nope. Barbie's just fine ending her work with the "design ideas" and a laugh. She'll need the boys before she'll have a "REAL GAME." (…)
THE FUCKING END, PEOPLE. Despite having ruined her own laptop, her sister's laptop, and the library's computers, not to mention Steven and Brian's afternoon, she takes full credit for her game design— only to get extra credit and decide she's an awesome computer engineer! "I did it all by myself!"
(…) Helen Jane and I were so livid after reading this book we spent the first fifteen minutes spitting out syllables and half-sounds. We'd go from outraged to defeated to livid in the span of ten seconds. "I want this thing to start a meme of girls screaming, 'I don't need a Brian or a Steven!'"
We knew we had to share this with you, because if we didn't, we'd be saying it was okay. We couldn't just roll our eyes at how insulting this book is, how dangerous it is for young minds, how it's a perfect example of the way women and girls are perceived to "understand" the tech world, and how frustrating it can be when nobody believes this is how we're treated. Just about every review we could find on this book had readers equally offended and frustrated.
Oh, and the 50 stickers? I only saw one: "Nerdy is the new Fab!" The others had already been removed by Helen Jane's small daughters. We can only hope that one of them doesn't boast,"My other laptop is a boy!"
Ken Hess, Zdnet, 21/11/14
Some people felt that Barbie failed as a computer engineer and that the book, Barbie: I can be a Computer Engineer, was sexist and had other problems as well. A few headlines even brand her as "inept". I disagree. If you really look at the book, there's nothing wrong with the story. It's our mad interpretation of it that really bothers people. I think Mattel and the irate, militant feminists have <again> overreacted.
In the story, Barbie apparently comes up with design concepts for computer games. So, what's wrong with that, you ask? She tells Skipper that to turn it into a real game, she has to get Steven's and Brian's help.
Really Barbie? You're saying that you're part of a design team and that not one of you has all the expertise required to build an entire computer game? Wow, that's so…normal. Seriously, game design is a good job. Designers aren't always programmers and they work as part of a team to bring a game to life. Seems pretty normal to me.
Then, the story turns to Barbie who attempts to email her design idea to Steven, but discovers that she has a virus. The virus, she and Skipper discover, originated from her flash drive.
Is Barbie showing that she's a helpless female or an inept computer engineer? No, that's absurd. The thing is that Barbie is a game designer, not a desktop support technician. It's a very different skillset. Many of my coworkers bring me their Windows-based computers to fix because they're UNIX or Linux people and not Windows experts. Or maybe, like Barbie, they just don't know enough about computers to call themselves competent computer engineers. (…)
In the end, Skipper's files are saved. Barbie's files are saved. Barbie gets a good score for her design and all end's well. That is until some militant feminist got ahold of the story and decided that it was bad.
What does the story really have to say?
Barbie is smart. No one knows everything. Teamwork is key to success.
There's no sexism. There's no misogyny. There really is no problem.
It sounds like a typical day in any IT shop to me.
The only problem that I see in the story is that Barbie takes a bit more of the credit than she should. She should have told Skipper that it was a team effort to retrieve the files and to remove the virus. But, that too, is pretty typical of IT people.
In all, I'd say it's a pretty good story.
And, hey, Barbie,…I'd totally hire you as a game designer because obviously you're good enough to impress your female instructor and your two male coworkers. So, yes, you can be a computer engineer. And Ken can stay home, clean house, write the Great American Novel, or create blog posts for ZDNet, while you earn the big bucks as a game designer. I bite my thumb at the haters. So there.
Wired, ROBERT MCMILLAN, 11.21.14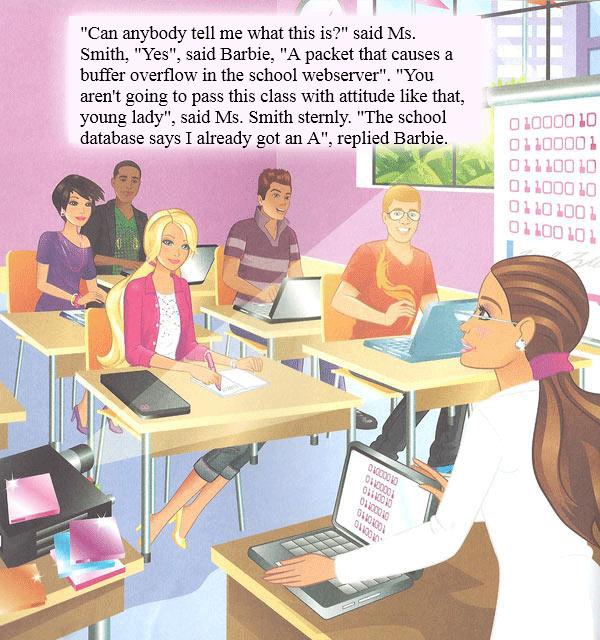 (…) The internet has fallen in love with Feminist Hacker Barbie. She's the brainchild of Kathleen Tuite, an independent computer programmer based near Santa Cruz, California, who spent a half-day this week putting together a website where people could re-caption the original book, hacking it to fix all of its pastel-hued problems.
Tuite, who until recently was a University of Washington graduate student studying crowdsourcing, says she created the site out of disappointment and frustration with the official Barbie book. In the past few days, her Feminist Hacker Barbie has blossomed into a full-blown and extremely funny internet meme with thousands of captions, many of which we think would make great fodder for a real Barbie engineering movie.