Clash of Clans and Candy Crush Saga dominate apps 'superstar economy'
Supercell and King among the big winners according to Midia Research's new report, but music is a 'forgotten backwater'
theguardian.com, Tuesday 8 July 2014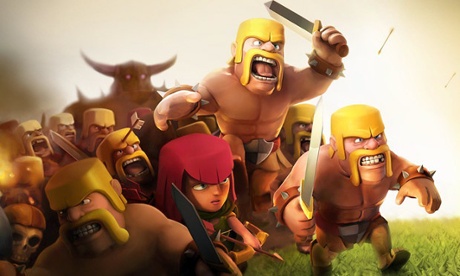 The mobile apps market is a "superstar economy" dominated by a small number of companies – particularly those making freemium games – according to a new report published by research firm Midia Research.
This will come as no surprise to developers struggling for attention on Google and Apple's app stores, which both have more than 1m apps available, but the report provides more data outlining the challenge.
Midia took a snapshot in May 2014 of the 50 top grossing apps on Apple's App Store and Android's Google Play store in the UK, US, Canada, Germany, France, Spain and Italy, then examined trends in the 700 apps it found – obviously, some will have appeared several times.
The report notes that just 50 companies accounted for 81% of these top grossing apps across both stores. On Apple's store, 105 companies accounted for the 350 top grossing apps, while on Google Play, 81 companies made up the list.
Midia also found that games accounted for 84.9% of the 700 top grossing apps studied for the report, leaving other categories including social networking (4.1%), dating (3.9%) and navigation and travel (2.3%) in its wake.
"The impact of games is doubly strong because no other genre of apps has learned how to make in-app payments work as effectively as games companies have," write authors Mark Mulligan and Karol Severin. "The app economy is, for now at least, a games economy."
The report also notes a self-perpetuating cycle at work, explaining that with freemium games so lucrative, their publishers can afford to outspend other app genres to keep them at the top of the charts.
"Finnish developer Supercell spends a reported $1m a day on app marketing and generates $5 million a day in revenue. These dynamics further bias the market to those with the deepest pockets," suggests the report.
Mulligan and Severin also identify some "super powers" of the apps economy: the US, Sweden and Japan, who collectively accounted for 61% of the top grossing apps studied for the report. However, 75% of the Swedish apps were made by Candy Crush Saga developer King, with Mojang's Minecraft also high in the mix.
Supercell said in February that it made $892m of revenues from just two smartphone and tablet games in 2013. Meanwhile, King's filing to go public the same month revealed that its 2013 revenues were just under $1.9bn.
Midia's report also examines music apps more closely, even though the category only accounted for 1% of the 700 top grossing apps studied – "small fry" in the words of the report: "Music is a forgotten backwater of the app economy that is ignored by its bigger names."
Music rightsholders will be shifting uneasily at another conclusion: that free music download apps are "the acceptable face of music piracy", including apps designed to rip audio from YouTube music videos and download it to the user's device. (…)